Careers and Aspirations at bolsover church of england junior school
Going "Beyond Bolsover".
Through various research studies, it has been proven that is important to instil aspirations and ambitions in pupils at a younger age to further maximise their ambition and engagement with higher education. If pupils know what they wish to aspire to do at an earlier age, it can help to focus their educational journey.
At Bolsover Church of England Junior School, our curriculum is designed to further maximise this ambition and drive within our pupils. We achieve this through:

Developing Experts - to support teachers planning our science curriculum, we make use of resources and planning from Developing Experts. Each science lesson introduces an expert in a particular scientific-linked job who will set the children with their challenge to complete in the lesson.
PSHE Curriculum - Dreams and Goals - As part of the school's PSHE curriculum, the whole school spend six weeks focusing on a unit called Dreams and Goals. These sessions give the pupils the opportunity to consider their goals for later in life and investigate and plan how they can achieve them.
Tomorrow's World - the final Year 6 curriculum topic is titled Tomorrow' World. For this, pupils look ahead to life "beyond Bolsover" [Church of England Junior School] with part of their final project setting up and running a Careers' Fair.
Secondary School Transition Days - various transition days at The Bolsover Secondary School, such as the Year 5 Party in the Park Taster Day and Year 6 Science Day. During these sessions, our pupils get to experience life in secondary school and some of the subjects and lessons they have to offer.
NTU's Outreach programme - engaging with Nottingham Trent University's Outreach programme - for further information, please see below.
Visits from key figures - throughout the year, we invite a range of visitors into school. Recently, we have had visits from our local MP (Mark Fletcher) and a range of authors (like Vashti Hardy and Peter Murray) who have all shared their experiences growing up and how they entered into the careers they have chosen.
Residentials - during time at our school, pupils have the opportunity to engage in a range of residentials. On these visits, our children explore different skills and careers: Whirlow - farming; Walesby and Whitehall - extreme sports; London - careers in the arts and through the museums we visit. For further information about the residentials we offer our pupils can be found here: Bolsover Church of England Junior School - Residentials (schooljotter2.com)
Engaging with Natwest's Money Sense programme: Money Games and Online Financial Resources | MoneySense (mymoneysense.com)
Careers and Biographies - In Year 4 during their Blue Abyss curriculum, pupils explore the life and careers of Jacques Cousteau and Sylvia Earle and how these have shaped modern day technologies.

Nottingham Trent University Outreach Programme
At Bolsover Church of England Junior School, we have established links with Nottingham Trent University's Outreach Programme to offer our pupils a variety of sessions linked to developing their understanding of university life and higher education. See below for information about these different sessions.

Further information about the work NTU do with primary schools can be found here: https://www.ntu.ac.uk/about-us/the-centre-for-student-and-community-engagement
Year 5/6 Careers and Aspiration Workshops
Before our pupils visit the university campus, student ambassadors from NTU will visit our school to work with our Year 5 and 6 pupils.
During these sessions, our pupils gain early access to information surrounding university.
The primary outreach programme introduces Year 5 and Year 6 pupils to the concept of university and gives them the opportunity to discuss some of the myths surrounding higher education.
Through in-school, classroom based activities they discover what a university looks like, learn about aspects of student life and develop key vocabulary linked to university. Furthermore, they will gain an understanding of the journey from primary school through to higher education.
The sessions focus on the following: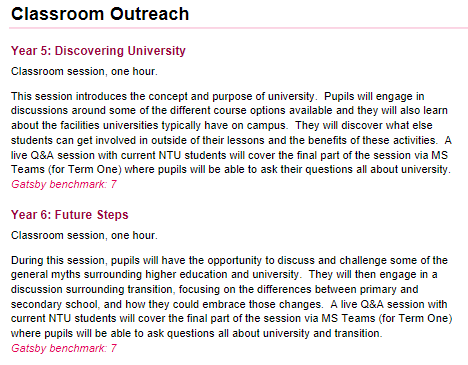 Year 6 Careers and Aspiration Campus Visit
In the final term at our school, our Year 6 pupils have the chance to visit a university campus . This helps to bring university to life and support our pupils in making a smooth transition into secondary school.
Delivered by Nottingham Trent University's Outreach Team and Student Ambassadors, the Year 6 campus visit gives our pupils an immersive experience at a university.
The event is designed to support pupils to develop their knowledge of university, student life and enable them to visualise their transition to secondary school and beyond. Our pupils have opportunities to engage with NTU staff and students and ask questions. The experience will involve pupils exploring the campus and taking part in interactive small group activities facilitated by Student Ambassadors.
Further information about this can be found here: Year 6 campus visit | Nottingham Trent University