Coronavirus Outbreak
We are constantly being alerted to the latest advice issued by Public Health England, the NHS and the DfE. The current advice can be found below. Simply click on the website links.
https://www.gov.uk/government/publications/guidance-to-educational-settings-about-covid-19
https://www.gov.uk/government/organisations/public-health-england
https://www.nhs.uk/conditions/coronavirus-covid-19/
Department for Education Coronavirus helpline
A new helpline has been launched to answer questions about COVID-19 related to education. Staff, parents and young people can contact the helpline as follows:
Phone: 0800 046 8687
Email: DfE.coronavirushelpline@education.gov.uk
Opening hours: 8am to 6pm (Monday to Friday)
The Importance of Hygiene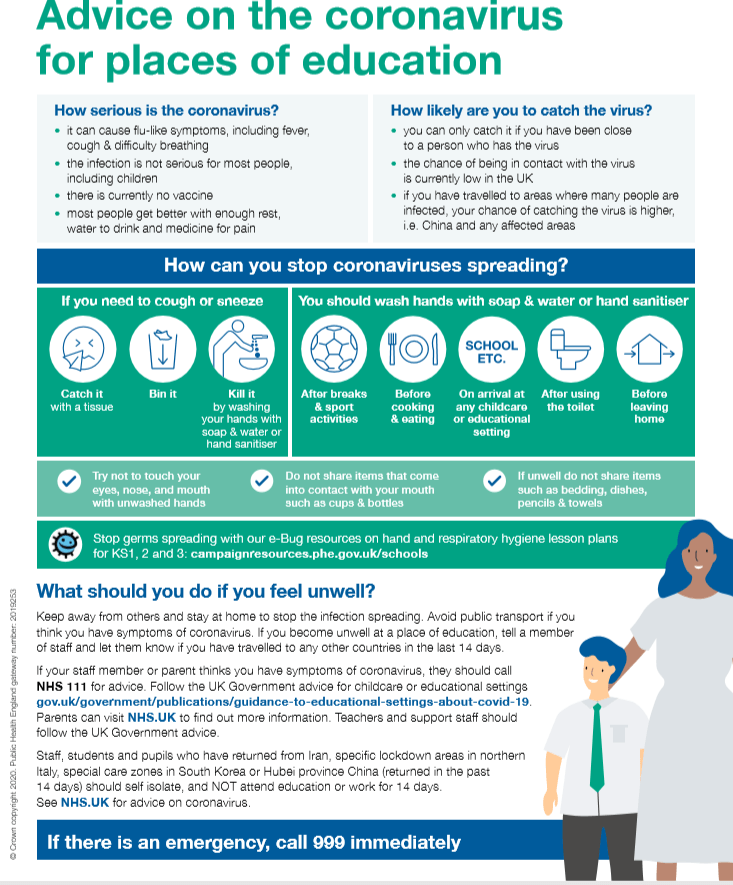 What are we doing as a school?
We have spoken to the children about the various preparations being made by the school.

Posters have been displayed in and around school about the importance of good hygiene.

Children are being supervised to wash their hands, where necessary.

Lessons on the spread of infection and all about hand hygiene.

Assemblies have been delivered on the recent news stories about Coronavirus.

As always, we ensure sink areas are are constantly supplied with soap, paper towels and/or hand dryers.
If you have any concerns or queries, please do not hesitate to speak to your child's class teacher or click here for further information.