School Council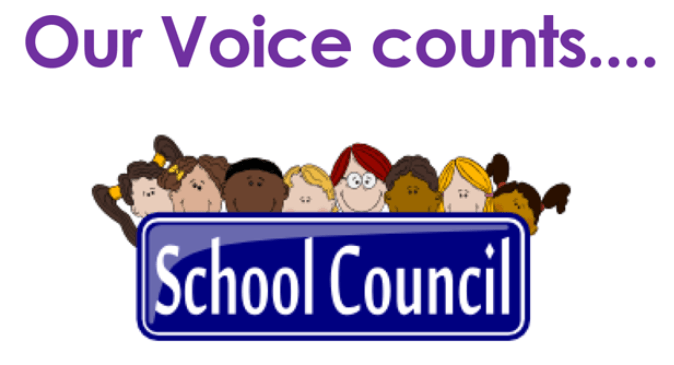 At our school, we are establishing our pupil voice through our School Council. We understand the importance of children being heard and making the changes they wish to see in their school; after all, the school is theirs.
Elections
We elect our School Council members through a democratic voting system within each class where two members of the class are chosen to represent the pupil voice.
Once our School Council members are elected, they meet altogether (with a staff member) to hear of the roles available within the School Council. Councillors then present their reasons why they feel they would be suitable for a particular role.
Our Structure
Year 6 Isla, Kobi, Lily-mae, George, Ruby, Harvey.
Year 5 Cora, Bobby, Tayla, Esme, Harry, Eden
Year 4 Abi, Alfie, Percy, Emily, Majed, Theo, Poppy, Robert
Year 3 Oliver, Thea, Mia, Oliver
Positive Play Leaders:
George, Ruby, Esme, Poppy, Robert, Majed, Theo, Percy and Mia
Teaching and Learning Leaders Isla, Kobi, Harry, Cora, Abi, Emily, Thea and Oliver
Sports Leaders: Harvey, Tayla, Lily-Mae, Bobby, Eden, Alfie and Oliver
Eco Committee: George, Kobi, Harvey, Esme, Harry, Abi, Emily, Robert, Thea and Mia
If you have any suggestions for any of the points we are currently working on, please get in touch with your class school councillors or add them to this padlet so we can discuss them.
What are we currently working on?
Discussions held on charity fund raising ideas, recently wanting to support Ukraine citizens and those affected by the crisis.

The need for new outdoor play equipment for playtimes and storage boxes, both for the playground and field.

Separate basket ball hoops on the playground so when football is being played on the MUGA, basketball can still be played too.

Breaktime clubs such as Lego club, reading club.

Setting up an enterprise club.

Competitions such as decorate an egg for Easter or make an Easter card and pay a small amount to enter the competition.

One day a week a tuck shop- a healthy fruit and veg tuck shop where children can bring in 20p for a piece of fruit.

sourcing a small tropical fish tank for the reception area or the hall.

Create a School Council newsletter
Our environmental review
Developing areas:
- composting bin
- gardening club/ mini allotment
- classroom garden
- travel to school survey
- creating worships to share
- recycling posters and notices for light switches needed in some classrooms
- displays to celebrate the school's work
- collecting plastic bottle tops to create a mural
- create a bird feeder from recycled materials/ milk cartons, competition
bug hotel, log pile house
more litter pickers and arrange a once a week clean up/ litter pick, also extend to the local community once a term
Enter Keep Britain Tidy
Frequently Asked Questions (FAQs)
Why do we have a School Council?
We believe that the pupils' voice is vital in making sure our school meets the children's needs. Our school is built around the children so it is important they have their say and get heard.
How many Councillors are there?
Each class elected 2 School Councils, creating 20 Councillors in total.
How were the School Councillors elected?
The classes were given information about the school council and what their roles would be. The children had the freedom to choose whether they would like to stand and were asked to prepare a short speech as to why they feel they would be good for the role. Promoting British Values and democracy, each class voted for the candidate they felt would represent their class the best.
What makes a great School Councillor?
All our school councillors are excellent at following our school ASPIRE values. In addition to this, a school councillor should:
Be resourceful; have good problem solving skills.

Be reflective.

Be independent; try to have confident speaking skills and excellent listening skills.

Be collaborative; enjoy teamwork.

Be aspirational; have an open mind to new ideas.

Be responsible.

Be determined; work hard to get things done.
Help your child learn more about the role of School Council by reading this CBBC Newsround article.